News
Staying in on New Year's Eve? Join Jools (Joe) Bennett's Vassiliki Hogmanay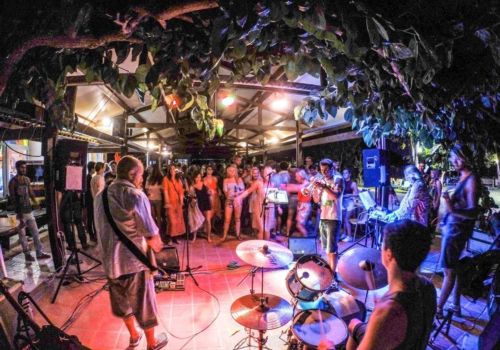 Seasonal plans in disarray? New Year celebrations on hold? You are warmly invited to join our very own Jools Bennett for a Vassiliki Hogmany: an eclectic evening of celebration, salutations and mild (potentially raucous as alcohol involved) hilarity. Renowned for his prodigious, coruscant – nay effulgent – performances Joe's acoustic sets from Vassiliki during lockdown warmed many of our regular guests' hearts with Facebook views hitting the thousands. Who wouldn't love to be in his shoes on Covid free Lefkas on the 31st?
So, to bid 2020 and all its idiosyncrasies a firm farewell and welcome in 2021 with gusto and shared toasts with friends old and new we look forward to seeing you on New Years Eve. If the Wildwind BBQ evenings with Maestro Joe's dry banter are your cup of tea, join us from 22.00 to 00.00 GMT on Facebook link here.
Wonderful news in this season of new birth: the Wildwind family has a brand new member as yoga teacher/receptionist Alex has just had a baby boy! Mum and babe will be with us in Vassiliki next year.
As an extra bit of festive news, in spite of all the uncertainties we have managed to keep our prices the same for the past two years BUT there will be a new price list issued on 1st January 2021. This isn't a marketing 'gun to the head' just a long hard look at our business accounts. Sadly, as a small company, we can only afford to hold our prices until the end of the year given the impact of Covid and Brexit on our cost base. So make NYE a time of extra celebration and book your 2021 Wildwind holiday: what better way to vote for a positive 2021?
What more is there to say? We hope you have a wonderful Christmas, stay healthy and have at least a few days away …
More News
Staying in on New Year's Eve? Join Jools (Joe) Bennett's Vassiliki Hogmanay