News
Is it safe to travel to Wildwind this year?
This is the question that crosses many people's mind as they decide whether to join us in Greece this year. With the experience of the past six months it is eminently wise that anyone considering travelling should have all the information they need to decide whether it is safe to fly to Vasiliki this summer. We have been on that journey with our guests as we made the decision to open and to welcome guests from the UK. We have listened to their concerns, gathered the information they asked for and welcomed them in Vassiliki: albeit in a socially distanced way.
Below you will find all the detailed information they asked for. Please do take a look and call the team in the office if you have any queries.
The flight
We fly with British Airways from Heathrow to the small Preveza Aktion airport just off the island. The planes are made by Airbus. Chief engineer at Airbus, Jean-Brice Dumond, gives a very clear explanation of how plane air filtration and circulation catches 99.9% of COVID-19 in the first two minutes of this video: https://www.facebook.com/airbus/videos/582384906021127
In summary, during the flight:
Half the cabin air is ejected from the plane and half new replacement fresh air is brought in from outside
The half of the air that is recycled is passed through hospital grade HEPA (high-efficiency particulate air) filters which catch 99.9 % of viruses and bacteria including COVID-19
The air comes in above your head and flows vertically downward and is then released into the atmosphere via exhausts beneath your feet – NO air goes fore and aft along the cabin
These vertical air jets are powerful so each air 'bubble' is row specific
Chief engineer at Airbus, Jean-Brice Dumond, explained to the BBC: 'Every two to three minutes, mathematically, all the air is renewed.' 'That means 20 to 30 times per hour, the air around you is completely renewed.'
The Centers for Disease Control and Prevention (CDC) provide independent confirmation of this: "The recirculated air passes through a series of filters 20–30 times per hour. In most newer-model airplanes, the recycled air passes through high-efficiency particulate air (HEPA) filters, which capture 99.9% of particles (bacteria, fungi, and larger viruses or virus clumps) 0.1–0.3 µm in diameter. Furthermore, air generally circulates in defined areas within the aircraft, thus limiting the radius of distribution of pathogens spread by small-particle aerosols. As a result, the cabin air environment is not conducive to the spread of most infectious diseases."
A panel of health and aviation experts, which convened to advise the UK government and aviation industry, said that low humidity and air filtration systems already in place in planes minimise the risk of infection while on board. 'The air in planes is about as clean as an operating theatre,' said Professor Ashley Woodcock, who led the panel. The panel advised that the current virus is about 125 nanometres in diameter – well within the particle size range (10 nanometres and above) that the filters can capture. (Source: BBC)
Plane toilets/ bathrooms
Dr James Hamblin M.D. writes that:
"Airplane bathrooms have ventilation like the rest of the plane. One thing is that you should still wear a mask. I wouldn't assume it's safe just because you're alone. I would still wear the mask. We know that flushing a toilet has the capacity to aerosolize virus, if there was virus in the stool that was in that toilet. We don't know how much virus would have to be present in order to infect someone, and airplane bathrooms are kind of weird. They don't have the same swirling water mechanisms—they just suck down. I don't believe they have specifically been studied as a contributor."
Masks protect you as well as others
The World Health Organisation advise and all airlines and airports now require you to wear a mask.
"If we all wear masks, we all protect each other", says Dr Tang. You also protect yourself somewhat, using the mask. If you mask, then you reduce the incoming aerosols (tiny air particles) by about six-fold, and you reduce the outgoing aerosols by about 20 or 30-fold. That protection works both ways, for everybody.
https://www.nytimes.com/2020/07/27/health/coronavirus-mask-protection.html
The airport
We fly from Heathrow to the small Preveza Aktion airport just off the island. When flights restarted every passenger and crew member on every international flight was tested for COVID-19 at the airport. As there have been no positive tests they are now random testing. This appears to be the case so far at other Greek airports where there have not been any cases found on travellers from the UK into Greece. Here's how Greek City Times are reporting this
The island
Lefkas is a safe and virus free island and has only had two mild cases in the past seven months.
Greece as a nation has had one of the lowest number of cases in Europe, with 206 deaths in total, so they are keen to keep it that way so all businesses have full protection measures in place. This is clear to see in this graph: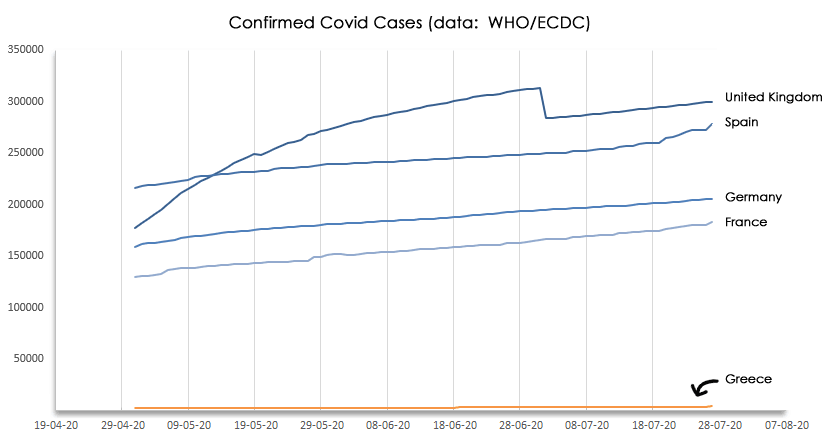 Precautions at the Wildwind Centre
We take everyone's temperature every morning (staff and guests) with a no contact gun thermometer, no dancing is allowed during live music evenings and deep regular cleaning is the norm.
As part of our drive to keep everyone safe we are not offering our 'willing to share' accommodation option this year but to compensate there are special prices for solo travellers on some dates.
Precautions during our activities
Greek regulations allow two persons to sail together and all our staff have been tested or quarantined or both! All of our equipment such as buoyancy aids and harnesses are cleaned thoroughly and you will be given your own for your stay with us. Groups are kept to small numbers with appropriate distancing.
The Kids club is still operational.
Precautions at our bars and restaurants
Tables have been spaced in the restaurants and all serving and kitchen staff wear masks – in fact masks are now required in all indoor spaces in Greece - such as shops and supermarkets.
Precautions at our accommodation
To comply with current health protocols all rooms will be steam cleaned and sanitised between each set of clients. Rooms will additionally be cleaned midweek for 7 night stays and the middle weekend and midweek again for 14 night stays. Bed linen and towels will also be changed at these times.
These are links to the detailed protocols each of our hotels have in place to keep you safe during your stay: Melas, Kavadias, Akti
What our guests have said about safety
Guests who flew back to the UK yesterday were keen to let others know how safe they had felt during their time with us. Rob was euphoric: sorry no other word for it: "We knew we could trust you but we've been absolutely overwhelmed just how wonderful the team and all the locals have been. We feel completely safe. You guys are so organised it's just wonderful".
Emma, flew back to the UK yesterday after a week with us: 'You guys are AMAZING! Just fantastic. I have felt so safe. I've been here a week this year but next year it will be two".
Frances, who travelled back to the UK last week, was full of praise: "No wonder you guys won the travel award for best sport/activity holiday. Everything has been outstanding. We have felt so safe it has been overwhelming. Your customer care has always been second to none but you've come into your own tackling the virus".
If you would like to know anything at all about our holidays, travel arrangements and so on please don't hesitate to call us – we are here for you.